All matter is vibration and subject to change. An endless amount of possible forms arise and collapse from this incessant flux, conducted by an urgent need to exist and transmit.
The Gyre is a duet evolving from one basic action: walking.
Gravitating around one shared central point, walking accelerates into a whirling, fathoming the mechanics of a relationship. Persistence and steady transformation unfold into a rigorous, yet fragile complementary score. Fugacious shapes emerge along the orbiting trajectory and coalesce with the subtle design of light and sound. In every instant of a turn, the two performers drift in and out of another, the distinct lines and contours of the bodies blur delicately into one.

ALL THINGS COME,ONE BY ONE
DIVERSE AND ALIKE
WOVEN AND BRANCHED
AND FROM THIS RANGE OF EXISTENCE
NOTHING COULD BE TORN APART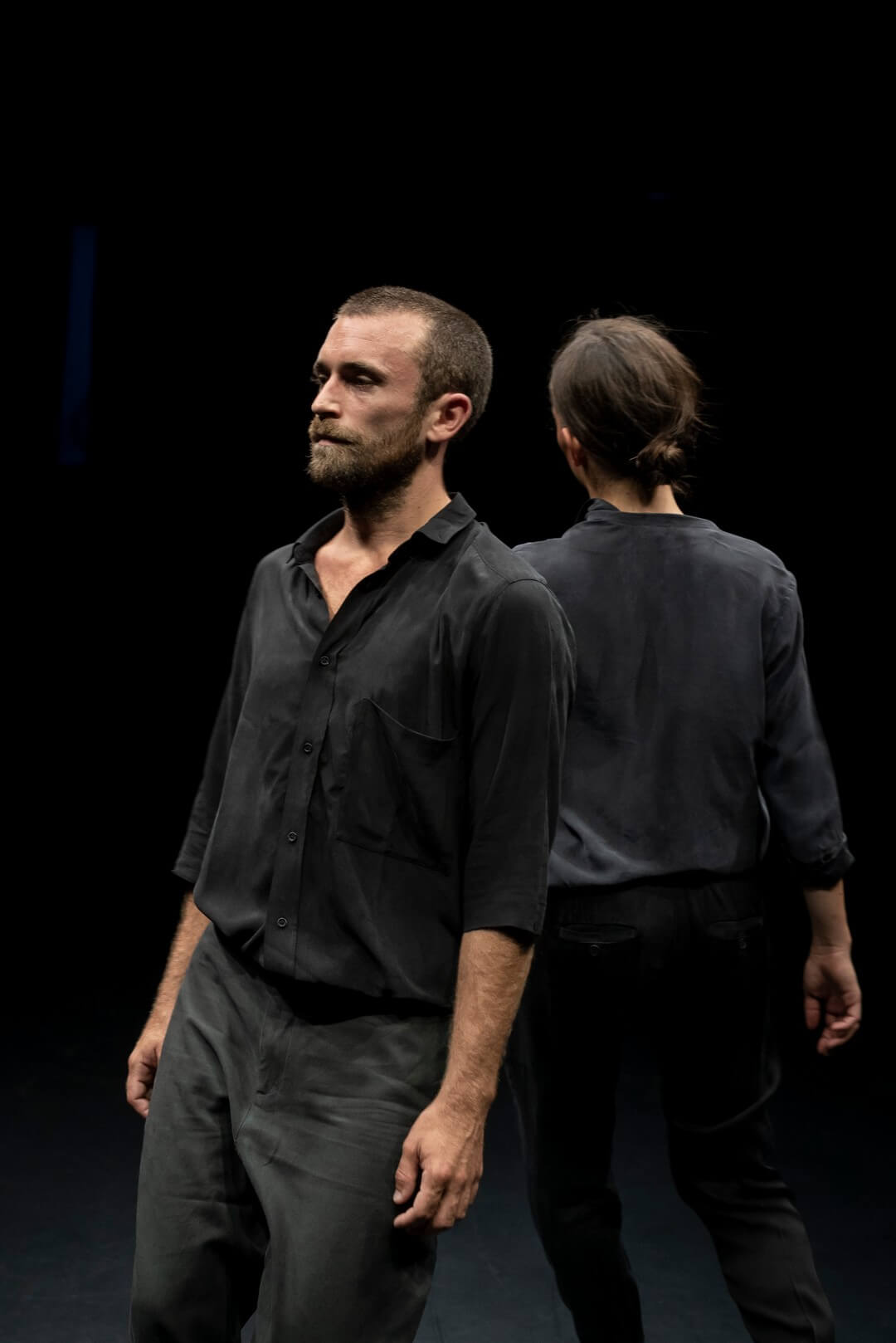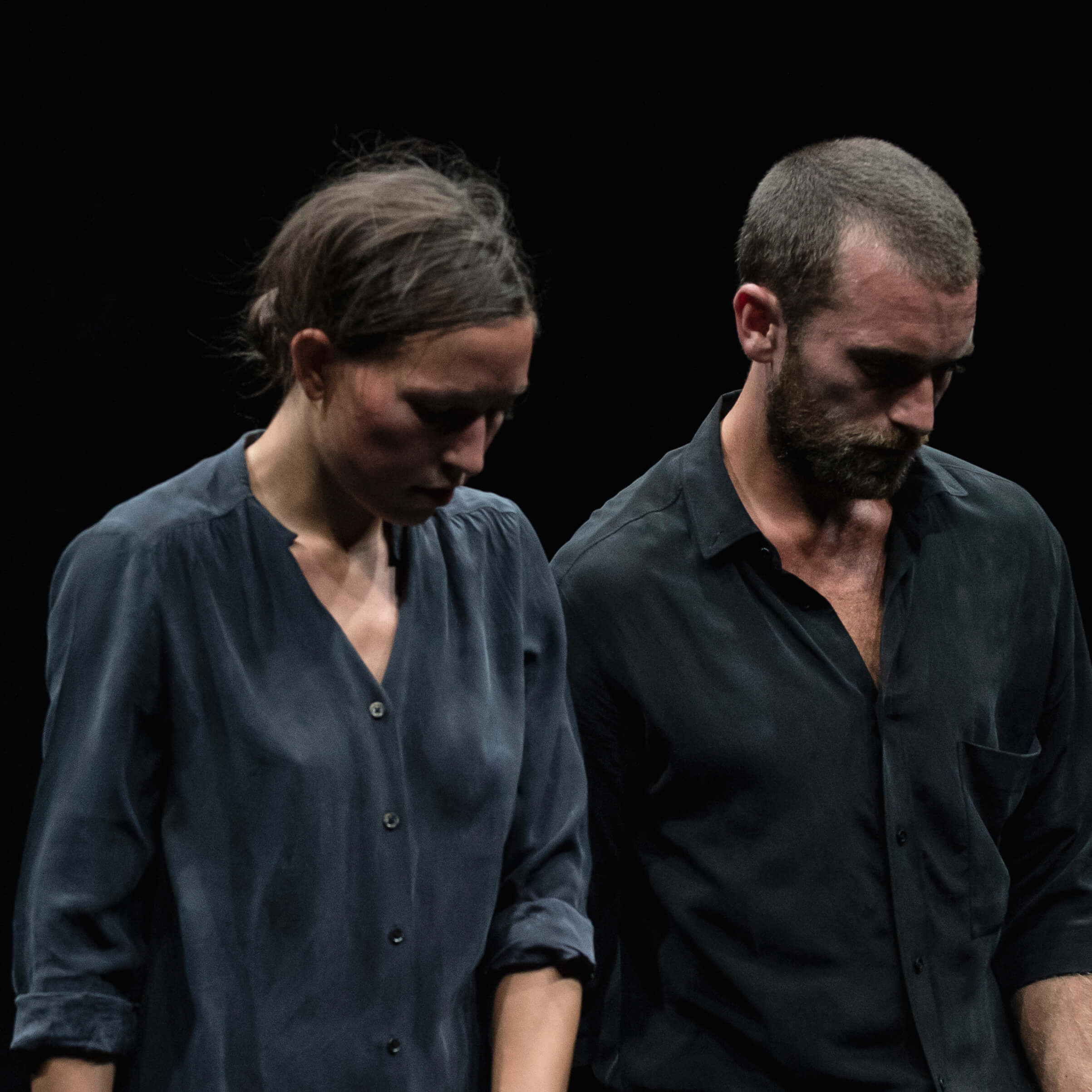 Partner Award by Dansateliers (NL)
in June 2019 at the International Duet Competition RIDCC in Rotterdam (NL).
First price at La Grande Scène (FR)
in November 2018 and touring support by the French network Les Petites Scènes Ouvertes for the Saison 2019/20.
concept and interpretation:
Angela Rabaglio and Micaël Florentz
light design and scenography:
Arnaud Gerniers and Benjamin van Thiel
music (original composition):
Daniel Perez Hajdu
outside Eye:
Dagmar Dachauer
production:
Tumbleweed
communication / distribution:
Quentin Legrand (Rue Branly)
co-production:
Dansomètre / Oriental-Vevey (CH), Garage29 (B), Wolubilis (B)
residency partners:
Charleroi Danse (B), de Warande (B), Destelheide (B), Carthago (B), Dance Atelier (IS) Reykjavik (IS), MMF Slaturhusid (IS), The Freezer (IS), Dampfzentrale (CH), Lo Studio (CH), CCN Roubaix (FR)
supported by:
Fédération Wallonie – Bruxelles, Wallonie – Bruxelles International
in co-realization with the french network "Petites Scènes Ouvertes" and the support of ADAMI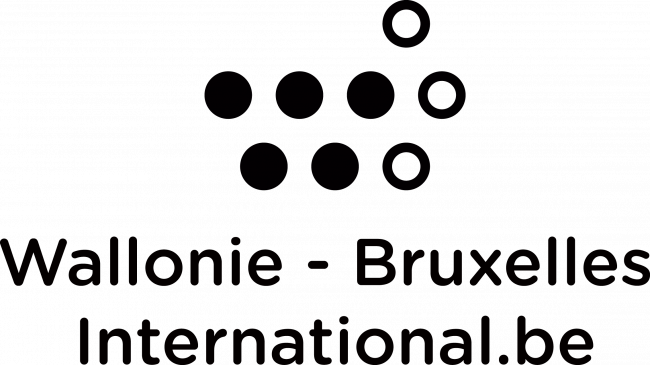 « A masterpiece, worthy of the first Keersmaerker, both in its radicality and its rigor and mastery of its execution. The two dancers, on a music reminiscent of Steve Reich's Drumming, draw, in a quasi-perpetual movement, each his own circle, imbricated in that of the other. Micaël Florentz and Angela Rabaglio gently orchestrate a meditative and intoxicating trance set like music paper, a journey that tells us about the couple, how to be one when we are two, always in unison, it is at the same time minimalist, of a dangerous beauty so much one looks for the misstep (which will never come), and a saving optimism as for the romantic relation. »
Thomas Adam-Garnung | Ballroom – Revue n°21, 05.03.2019
link to full press dossier:
for more information please contact us directly at :