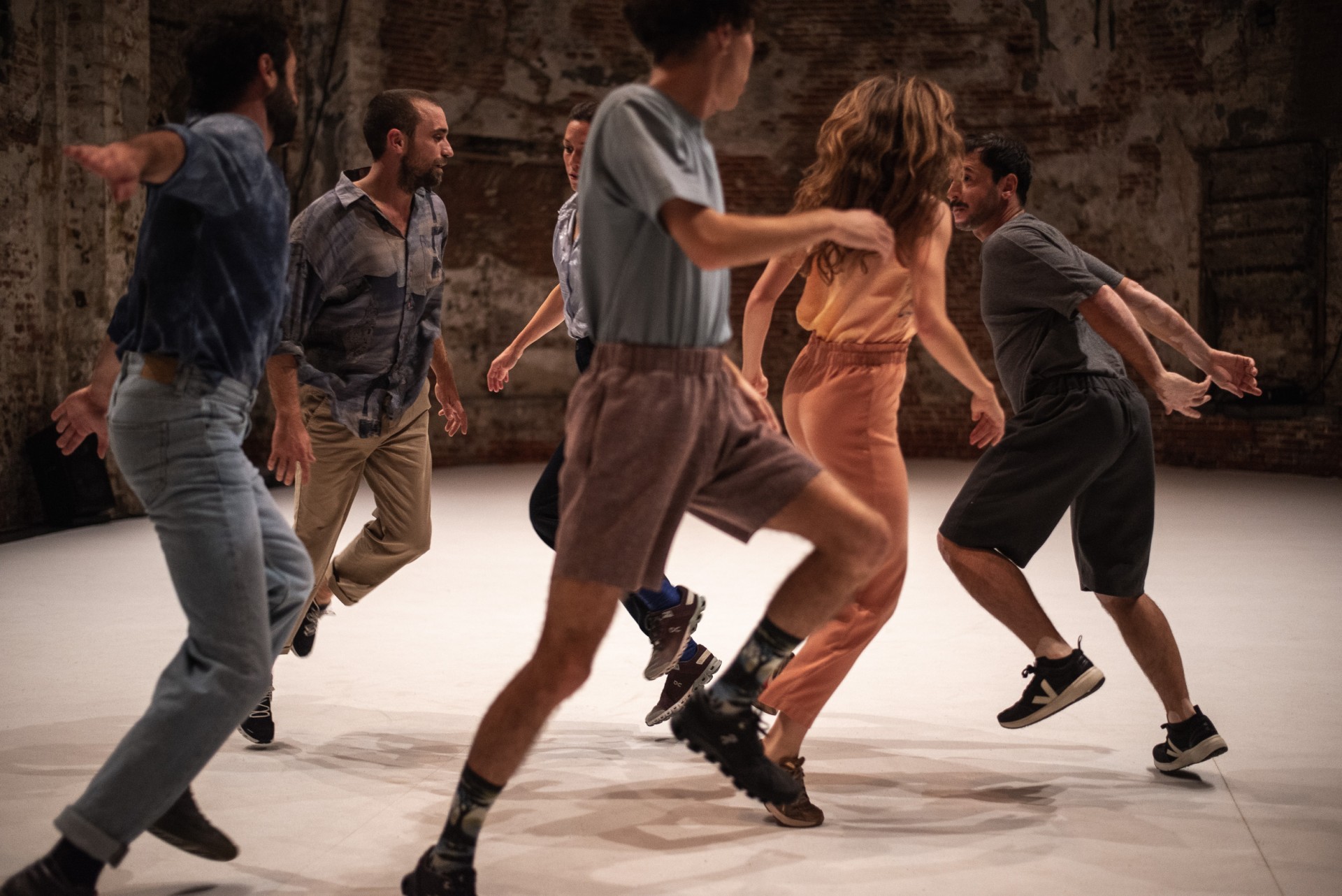 Indissociable from his own kind, as well as from the constantly changing environement, the individual is plural and always in the process of becoming. (S)he is as much a space in motion, as well as the distance to the other. The human being is a relation.
Inspired by the diversity of the collective behaviors found in profusion in the living world, A Very Eye invites us to change perspective, to highlighten the interstices between bodies, to emphasize the relation to the other, and to let appear the interdependencies between territories. Driven by a common stream that seems inexhaustible, the five dancers are drifting in and out of each other, letting their bodies merge, despite and because of their divergences. While linked by their gaze and rhythm, they let emmerge a multiple face, like an image printed on a passing screen ; a DNA in constant metamorphosis.
Indissociable de ses semblables, comme de l'environnement en action dans lequel il circule, l'indidivu est pluriel, et toujours en devenir. Il est autant un espace en mouvement, que la distance de cet espace avec un autre. Il est une relation.
Inspiré par la diversité des comportements collectifs que l'on retrouve à profusion dans le vivant, A Very Eye nous invite à changer de perspective, à éclairer les interstices entre les corps, et les interdépendences entre les territoires. Entrainés par un souffle commun qui semble inépuisable, les cinq danseur·euse·s se succèdent et s'accrochent, lié·e·s par le regard et le rythme, pour laisser apparaître, comme une image imprimée sur une bande passante, le visage multiple de la collectivité ; un ADN en constante métampormphose.
PRESSE:
A Very Eye, bain de beauté
(…) À la fois abstraite et organique, géométrique et follement fluide, la pièce (et soudain ce mot résonne de ses divers sens, convoque le tout et le détail, l'ensemble et la fragmentation) explore la matière qui se meut et s'offre à autant de lectures qu'il y a de personnes présentes pour éprouver ses métamorphoses, ses synchronicités, ses logiques, ses motifs entrecroisés.
(…) Avec toujours à l'esprit cet oeil évoquant le cyclone autant que le regard et sa tendresse. Et cette magie indicible, indispensable : vivre ensemble un moment intimement singulier.
Marie Baudet – La Libre, 05-10-2022
A Very Eye, bath in beauty (…)
Both abstract and organic, geometric and wildly fluid, the piece(…) explores the material that moves and offers itself to as many readings as there are people present to experience its metamorphoses, its synchronicities, its logics, its intersecting patterns.
"How we negotiate to be together, how we remain ourselves by forming a whole, but without blending into it" : these exploratory questions, worked on by six, give rise to multiple interpretations ranging from atomic physics to Arab-Andalusian architecture, from weaving to the dynamics of shoals of fish, from folklore dances to listening to trajectories. With always in mind this eye evoking the cyclone as much as the gaze and its tenderness. And this unspeakable, essential magic : living together an intimate and singular moment.
for more information please contact us directly at :
concept and choreography:
Angela Rabaglio and Micaël Florentz

performers :
Sergi Parés, Mona Felah,
Charlie Prince, Jeanne Colin,
Angela Rabaglio, Micaël Florentz
light design / scenography:
Arnaurd Gerniers

music:
Anne Lepère
outside eye :
Christine Daigle, Melissa Rondeau, Esse Vanderbruggen
costumes :
Mélanie Duchanoy
research:
Christine Daigle, (choreography),
TingAn Ying (choreography),
Olivier Hespel (dramaturgy)
production:
Tumbleweed asbl

communication / distribution:
Quentin Legrand (Rue Branly)




CO-PRODUCTIONS :
Charleroi Danse (BE), Les Brigittines (BE), CCN2 Grenoble (FR), CCN Tours (FR),
CDCN Pole Sud Strasbourg (FR), Cultuurcentrum Brugge (BE), Dansateliers Rotterdam (NL)
RESIDENCY PARTNERS :
Le Gymnase (Roubaix, FR), Tanzhaus Zuerich (CH), Choreographisches Centrum Heidelberg (DE), Garage29 Brussels (BE), Summerstudios Parts (BE), Grand Studio (BE), Culturcentruum Brugge (BE), Garcia Lorca (BE), KANAL Centre Pompidou Brussels (B), L'Abri (CH), Trois C-L (LU), Dansateliers Rotterdam (NL), de Warande (BE), Materiais Diversos (PT), Estudios Victor Cordon (PT), Onassis Stegi (GR)
SUPPORTED BY :
Fédération Wallonie–Bruxelles (BE),
Wallonie-Bruxelles International (BE),
WBTD (BE),SACD (BE)
Dansateliers Rotterdam / RIDCC (NL),
with the support of Grand Studio and Résau Grand Luxe 2021/22,